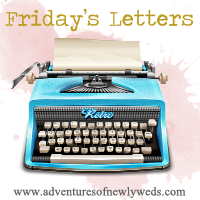 I have decided to link up with
Ashley
for some fun letters today!
Dear Husband: I am soo happy that you are finally feeling better! I am sorry I was unable to comfort you, but we all know I don't handle puking AT ALL! I am glad that you are soo understanding. I am also secretly happy that you are not sleeping on the couch anymore! I hate to admit but as much as I love sleeping in our king bed alone, I missed you! Oh and I am SUPER pumped for our trip!
Dear Hair: I am still loving you! I am looking forward to all the fun we are going to have. I really thought I would miss the length, but so far I am not! My head is soo much lighter. I also appreciate your co-operation so far! (Picture was posted yesterday.. but here it is again for your viewing pleasure, since I posted at night...)
Dear Blackberry: You are really making me mad. Hubby and the family finally got the social networking plan, just in time for our trip and I can't seem to add them on BBM. This frustrates me to no end! And when I call my cell phone provider, they were absolutely no use and otld me reseach it on the blackberry website. USELESS!! Soo hurry up and work!
Dear Cats: I am sure after this weekend that you are about to clue in that we are leaving you. I know you will not be happy about this, however 3 cats and 2 dogs in 1 truck with 2 humans, just isn't happening! I'm sorry! But know that I will miss you!
Dear Weather: You have been awesome. I am not going to complain one bit! However I am happy the humidity has dropped. I am also looking forward to using my pool when we get back.
Happy weekend friends! Luckily we don't have much on the this weekend, just a "barn dance" and a bridal shower so far, although I am hoping to finish shooting a family photo shoot! Oh and a potential phone date with
Miss Alison
to plan our meet up!!