It was actually a pretty fantastic weekend to recap!!!
Friday - Where shall I begin? How about when my boss called me into his office and told me how fantastic I am and that he is giving a SWEET raise?! Um Ok!!! Oh and it was Mike's birthday! I also got to leave work early!We had the Rehearsal Dinner for Nicole's wedding!! It went great!! Mike had baseball, it was a really close game!! 32-30 - we lost by 2!!! Good try boys!!
Saturday - NICOLE'S WEDDING DAY!!! Up bright and early to get our hair done!! I ended up forgetting the pictures, but it turned out pretty awesome anyways, except my hair dresser wasn't the nicest and didn't use enough hairspray for my liking on a hot/humid day.
Then I got my make-up done and guess what girls.... I am no longer a fake eyelash virgin!!! Yup I took one for the team and loved it!!! They looked soo good, I might have to do it again and again!!
The wedding was fantastic, and the pictures were pretty good too... wanna see some? (these are all pics from my camera!)
Picture I took of the rings and N's shoes!!
Wedding party shot!!
The Girls
M & I



Of course there are soooo many more... but there is a sneak peak!!
My speech was excellent!!! I might post it later this week... we will see!
Oh and on Saturday was my Grandma's 90th Birthday!!! Unfortunately I missed it!!
Sunday was my Sister's birthday!!! M and I ended up relaxing most of the day on Sunday. We were exhausted!!!
I must say... I have 2 weeks left in August and I hope to use them to relax and enjoy the rest of summer!!
Another thing that happened, which just might affect the big ol' blog is - my laptop died... either my video card/screen broke. Luckily, it is still under warranty!! So I am stuck using my old laptop... which I hate! I will hopefully have it back in a week!!
Oh Ya... remember how I may have mentioned a
mouse
... well guess what.... it is GONE!!! Just as I predicted... Without going into to much graphic detail... not only did the trap catch it (as in one)... the cats made sure it was dead as well!
Monday - I accomplished a lot around the house! I washed the floors, did laundry, dealth with some personal stuff, vacuumed and trimmed the dogs hair. I also made a salsa dip for Girl's night, which I hosted!!
Want some more good news? I have a lady coming to look at my car tonight!!! I PRAY she wants to buy it!!! Please keep your fingers crossed!!
Oh and some
Tail Wagging Tuesday
: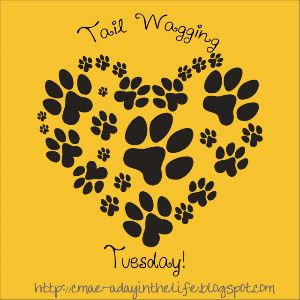 Gracie on the beach!!


Have a great day!!!