So fall is now officially here and it is raining! I would have loved to ring in the first day of fall with a nice walk, but that just won't be happening!
Soooo I bought my new rug! I am LOVE! - Oh and the rug is a big hit in the house! Remember how I was complaining about how Gracie won't settle without a bed, well she thinks this rug is her bed! She is in LOVE! We are all in LOVE - even M!!
Last night I ended up staying up a touch after 11 because I wanted to finish watching Grey's on my PVR, headed to bed, M comes to bed and is humming. Now I am sure I have mentioned that he is vocally challenged! I asked him what he was humming because I definitely could not "name that tune" - so he SAYS the words... he was singing:
Oh and it sounded nothing like that! Ohhh how I love my man!
I am going to attempt another new link up today: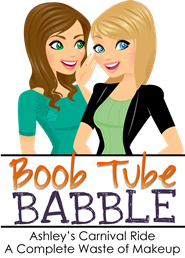 Where shall I start?
DWTS: I was surprised by Chaz Bono and David Arquette, did not love Elizabetta, but I am definitely rooting for Kristin!!
Sing Off: I don't even know why I like this show! I think I am just amazed that they can make music without instruments!
90210: I am not really liking Adriana... she is up to something and Naomi is sooo clueless sometimes...
Teen Mom: Amber drives me batty! I am sad for Caitlin and her boy - I wish they had better families! Oh and while I was watching Teen Mom this week, M asked me why I was watching trailer trash!?
Parenthood: Kristina looks awesome pregnant! I hope Haddie sticks by her man! My heart aches for Julia...
Up All Night: Hilarious!! Soo happy I found this show!!
Glee: Don't know if I am feeling it anymore!
Revenge: Was confused at first, but liking it soo far!
Grey's Anatomy: I love that it was a 2 hour episode, but was soo sad by the end of it! They deal with such hard topics!
X-Factor: Should I watch this? I don't know if I could stand Simon!
I hope everyone has a fantastic productive weekend!!
Happy First Day of Fall!