Great title eh?
Can you guess what this post is about to blend?
A little bit of this: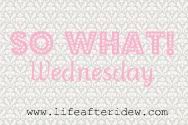 which you can check out
here
With some of this:
and you can find the link up
here
and last but not least:
So let's get started shall we?
So What If:
I've started to use my heated seats in my new car. It is chilly in the mornings
I had an OMG moment in the Tim Horton's drive through when I noticed they started carrying my Apple Cider again!! Fall really is here!!
So what if I just had to double check the spelling for Drive Through, which by the way can be spelt Thru or Through.
I am still addicted to playing Sims Social on Facebook - my sim is demanding?
after changing the great room around, I come home from work and feel welcomed... I welcome change I suppose?
I took waaay to long organizing my pin boards on Pinterest?
I was writing up tomorrow's movie review at work yesterday and got "caught up in the moment" of writing that I almost stayed late? It's a good review - make sure you check it out!

if I miss these two:
(Ripper and Diamond)
I am Loving:
That fall is sneaking up on us, although the weather this week is chilly, I am welcoming fall!!!

I am loving all the TV shows coming out this fall!! I have too sooo many to watch!! I am really looking forward to Hart of Dixie!! It looks fantastic and I am a fan of Rachel Bilson!
I am loving how excited Lily gets when you mention W, Walk, Going, What?. She instantly picks those words up in a conversation and runs around the room jumping and huffing and puffing. I am going to have to video it one day. Priceless!!

I love that I wore cords for the first time this season yesterday!!
Oh How Pinteresting
You can find me
HERE
Welcome all my new followers and the old ones too!!! Oh and just a heads up - I have a great give away coming up, so stay tuned!!!