How Far Along:
31 weeks - January 5 - 11, 2014
Size Of Baby?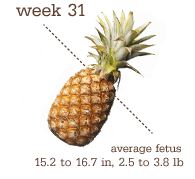 Baby is becoming more pink and less red this week as fat fills in under the skin. His/her irises can now dilate as well!
9ish more weeks to go!! This week we hit less than 2 months on the count down!!
Maternity Clothes?
Still able to mix in a few non-maternity items like this shirt:
Love that it is a comfortable option, although it didn't get much wear previous to being pregnant! It was a bit big, but now it fits better! It might just get put away with my maternity clothes when we are all said and done in 2 months!
Ready for my OB appt on Friday:
Stretch Marks?
Still just a small one, but nothing really noticeable.
Gender?
Team Green!


What the Doctor Had To Say:
Baby is a growing machine! Still measuring ahead as far as my belly is concerned. Blood pressure is back to being borderline. So he has decided to do another ultrasound come my next appointment, where he will also most likely decide to increase my blood pressure meds. In the meantime I will monitor closely at home. We will also most likely come up with our birth plan at our next appointment. Baby is back into breech position.

Sleep?
Is not happening. Hit my all time high for bathroom breaks in one night (3) and have just been tossing and turning non-stop seeing every hour on the clock. Napping isn't even going well! My dreams this weeks were out of this world! I dreamt we adopted a baby elephant??? And mentioned the other one below in crazy pregnant moment!

Baby Purchases This Week:
Purchased a car seat net used, as well as a baby on board sign.
The baby's custom hats I ordered from
TheA-dorable Designs
on etsy came in and I couldn't be happier with how they turned out!!
Can't wait to see the baby in them!! I have an awesome give away coming up from the shop within the next week or two! Stay tuned!!
Made this Week:
Crocheted away
Cravings/Aversions?
I am definitely eating smaller meals now. Cravings have pretty much curbed at this point since I'm not loving the side effects. Water is my best friend right now.
I did spoil myself with Cinnabon after maternity clothes shopping. I always wondered why Cinnabon was soo awkwardly located in the mall, until Friday when I rewarded myself with Cinnabon after trying on clothes (what a chore). It is conveniently located near the maternity stores!! Duh! What prego isn't going to smell Cinnabon and hit it up? Haha
Movement?
Feeling lots of tumbles and rolls, kicks and hiccups. Baby V is quite active and I am loving it!!
While shopping I had a stop and breath moment, not sure if it was a contraction or just a really BIG movement, but it made me stop for a moment. My energy level for shopping is dwindling, so our babymoon shopping trip should be interesting. Not sure if it's my foot that's causing the issues or just not being active for a month - maybe both!

Feeling?
I feel great despite the lack of sleep. I think being able to get up and move around more freely is helping, as I finally feel able to get things done myself, but in short intervals.
Reflux and heart burn have been big contenders this week.
Weight Gain:
It's been a while since I've updated this, but now that my cast is off the weight they take at the doctors office is now more accurate. My cast weighed 5 pounds!! We are looking at about 20 - 22 pounds so far.
Highlights:
We had our prenatal birthing class this week. We opted for the one day course instead of weekly classes. Turns out we knew some of the couples in our class from high school and we are all due around the same time! The class was informative, just long with horrible chairs!!
Belly Button?
In, but it is getting flatter and flatter.
Wedding Rings?
On and loose.


Best Moment of the Week?
Hearing sweet baby V and getting those adorable hats in the mail was pretty darn exciting! Also knowing that our baby is going to be here in less than 2 months feels soo surreal!
Crazy Pregnancy Moment:
Had my first dream about the baby's sex. Although it made no sense because first it was a girl, then a boy... Crazy pregnant dreams. But the name stuck out for the boy! So although the sex wasn't clear, the baby was cute and the boy names we struggle with was settled.
Bump Pic:
My baby shower!!! I honestly feel sooo honoured and incredibly lucky to be able to celebrate my baby shower with my closest friends and family!