How Far Along:
32 weeks - January 12 - 18, 2014
Size Of Baby?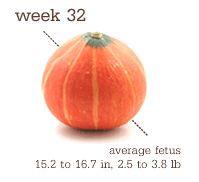 Squash! Can't say I am a fan of squash!!
Baby is practicing sucking, swallowing and breathing! Baby is capable of sucking his/her thumb now. Baby's skin is becoming soft and smooth.
Less than 2 months to go! I keep forgetting February is short month too!!
Maternity Clothes?
Mondays outfit:
Tuesday's Day of shopping attire:
Another non-maternity shirt that fits better as maternity!
Stretch Marks?
Still just a small one, but nothing really noticeable.
Gender?
Team Green!
What the Doctor Had To Say:
No appointment this week. Just tracking my blood pressure at home. I did end up calling my OB about my blood pressure, thinking my meds needed to be increased, but he was on holidays and the on call dr wanted me to be triaged first. So I sat in triage for 4 hours hooked up to monitors, my blood pressure was 140/98 and they found a trace of protein in my urine. So I ended up having blood work, which luckily came back all clear. Baby passed the non-stress test, a few contractions were noted, but just Braxton and hicks. They wouldn't increase my meds, told me not to travel this weekend, but gave me no rules to follow. They told me my blood pressure is unstable and refused to treat it! I was sure bed rest was headed my way with the way the nurse was talking.
Needless to say my stress levels with this whole situation has increased. I had been keeping a calm approach towards the whole thing and by the time I was driving home, I was upset and in tears over it all. It finally took its toll and it probably wouldn't have, if I was dealing with my OB, whom I trust. Tuesday can't come soon enough, so I can get this taken care of properly!

Sleep?
Marginally better, but still waking frequently with discomfort, although I'm still not sure what the cause is, my ankle, leg cramps or the need to roll.



Baby Purchases This Week:
The rest of the babys hats came in the mail:
The bath tun, mommy hooks, carseat cover, bath products, drying rack, healthcare kit, mirror, scratch mittens, snot sucker, mattress wedge.
(And costco for those sleepers)
We decided to go on our babymoon after all, with strict intentions to relax, along with a few stops of course to get the baby essentials:
Which included our stroller, our pack and play, bouncer, change pad, change pad covers, bassinet and pack and play sheets, swaddle blankets, baby monitor, newborn sleepers, hooded towels, breast pump bottles, bottle nipples, the bummsie, 2 pillows (they match the nursery perfect and will work great for the rocker), bottle warmer and sterilizer, sound machine and wash clothes! We are set!! Let the washing and organizing begin!
Made this Week:
Crocheted away
Started working on the baby mobile:
These are all stuffed now, just need to embellish them with fabric details for eyes/ears/wings and then buy some dowel and paint them white and hang the animals from it and voila baby mobile will be done!!
Cravings/Aversions?
Cannot get enough water! It is all I want at this stage, along with milk with dinner!
Cheesecake Factory Chocolate Cake found its way back to our hotel and we sure did enjoy that too!!
Movement?
Baby was super shy at my baby shower - of course, but when I got home it was all action. I think baby must be able to sense different environments by sound because as soon as I got in my car to go, baby was kicking.
Baby was also reassuring me, kicking all the way to the hospital on Thursday, and while we were there!! It did help putting my mind at ease!

Feeling?
Still pretty good for the lack of sleep I am able to get. I am beginning to get more leg cramps in the night, but nothing intolerable.
I actually had enough energy for a full day of baby shopping on Tuesday. I felt soo proud of myself! Although doctors orders have restricted my outings to "taking it easy".
Stressed about this blood pressure/pre-eclampsia scare. I know I will feel better when I talk to my OB, but in the mean time, I feel like I'm just sitting and trying not to worry, but reality is that it's on my mind non-stop and I'm worried.
While on our babymoon, the jacuzzi tub did it's job and relaxed me completely, along with some naps and just a sense of accomplishment of getting all our baby stuff. All baby purchases needed before baby were made!! I am glad we went despite the doctors medically advising against it, but I'm sure it was for the reason of leaving the country. I felt safe knowing that I was close to Canada if I had to get back.
Highlights:
My baby shower! It really was awesome being showered with my closest friends and my side of the family's presence. We are very blessed to have such an amazing support group filled with wonderful ladies and I am sure a lot of advice! Baby V was spoiled to say the least, but received a lot of awesome gifts.
Speaking of gifts,
Alison
sent us this sweet and thoughtful gift!! Thank you soo much!!!
We did decide to head to the states, knowing that if anything should happen, we were not far from Canada, and could just head home. Luckily I felt great all weekend, probably better than I would have sitting and stirring at home. It was nice to get away with M one last time. We found lots of time to relax and managed to only goto the stores we needed to goto, to which I had most items set aside at already, knowing shopping the whole store was against doctors orders.
Belly Button?
In, but it is getting flatter and flatter.
Wedding Rings?
On, but with this pre-eclampsia scare, I think I will take them off soon!! Once again, I will see what my OB is thinking.


Best Moment of the Week?
Baby shower wins. Although going away with M is a close 2nd for our baby moon, despite not being able to go far, just getting away together for the weekend was nice! It is also a good feeling knowing we have everything we need for baby now! A huge weight off my shoulders!


Crazy Pregnancy Moment:
The "I think I might pee my pants" debacle. Sure enough the baby is breech and therefore bounces on my bladder as if it is a trampoline often, sending me to the bathroom frequently. Monday was no acception. We were getting ready to go to our friends house and of course I had to pee, so I did. Then right before we left (5 min later) I thought I had to pee again, but no luck. Baby was playing games with me! So we get in the car and are driving and that's when it dawned on me, this is why pregnant women pee their pants. They get sick of running back and forth just to not pee. Well while in the car, I announced to Mike that I might just pee my pants and that I was in fact NOT joking! It was bad! Every 2 minutes my bladder felt like it might explode. Mikes response was "at least we have leather seats". The pressure was insane! Baby continued dancing away on it. I didn't end up peeing my pants, but when we made it to our friends, I went pee and (tmi) was only able to pee the smallest amount!! I would have swore my bladder was super full!!
Bump Pic:
Excuse the rough appearance of this weeks bump pic! It was taken right after we got home from the states. Yes I think my face has gotten a little rounder... I'm trying to ignore that fact... And these comfy jeans make my legs look wider, as they are a more relaxed fit!
Looking Forward To:
Seeing the baby next week at our next ultrasound. I guess there is one perk to have blood pressure issues! I also cannot wait to see my OB and hopefully get some answers regarding this blood pressure scare!