So this week I will start out with a bit of Tail Wagging Tuesday!!
Head on over
HERE
to link up!
The topic today is doggie bling!!
My dogs don't actually wear anything most of the time, unless we are out for a walk or at the lake.
Hence why I don't even have a picture of their bling... but I will describe it to you!!
Both of the girls have their own personal ID tags with their names and our phone number on them. Lily's is pink and Gracie's is purple and they are both bone shaped! Lily's color is hot pink and brown stripes and Gracie's is baby pink and lime green.
When you get their collars and leashes out they go crazy! The girls know their collars as "necklaces" lol! They really should wear them when they are at the farm, but they don't.
So I will leave you a picture of the 2 of them!!
Love them to pieces!!
Now for a little bit of Top 2 Tuesday: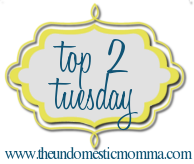 The topic today is things you collect!
Head on over
HERE
to play along!
I will admit my collections go in spurts... so I will go with the latest!
#1 would be BLANKETS!!! I just cannot get enough of them! All different colors, sizes and fabrics. I just cannot resist!
#2 would be sunglasses right now! I see them, love them and then buy them! I lose them like crazy too!
So there we have it!!
Happy Tuesday folks!