It is FRIDAY!!! And it is nice out and it is supposed to be nice all weekend!!
Sorry I didn't blog yesterday, I went on a little shopping spree for my sewing machine and projects. I washed all the fabric and then went out to work on my machine and well we did not get along... and not only did it not get along with me, but it did not get along with Mike! So, M's mom is going to come over and see what she can do before I call the repair line! Sooo frustrated!! Then we went out for dinner with M, J and K to Kelsey's.
Did anyone watch Grey's last night?! Silly question I know, but I definitely did and I loved it! It was pretty emotional, but I did not cry!! Can't believe it is season finale time already (next week). I have not watched Private Practice yet!
On to today, I am wearing my new flats. There is a funny story about these flats of mine! M is gonna kill me for telling you all! I took these shoes down to Dominican with me! They are SUPER cute BTW! Since M forgot to put my sandals in the carry on bag, I was going to have to wear these new shoes. All I will say is OUCH! I bought a size 11 and they are too small!? My feet are a size 10, sometimes 9 1/2... not 11, but anyways, they were killing my feet! We had purchased a pair of sandals down there and they killed my feet too. Maybe it's my feet?! Anyways, I told M that I wish I could stretch my shoes, so what did my marvelous man do?! He put them on his size 12 feet to try to help! I may or may not have taken pictures of this! I also MIGHT* have a picture of him wearing one shoe and me wearing another (the sad part is we didn't even realize it until after). We laugh about this now!
You can imagine his face when I went to put them on this morning! "You are wearing those?!" I put moleskin on the back of my ankles and so far so good! I really like these shoes!! They look something like this:
But they are not that exact shoe! Mine have more of a rounded toe, not so dull looking, etc.
Anyways, if you are lucky, maybe one day I will post the picture, but don't get your hopes up! I will mention that I really do love my husband though! Not just any guy would be willing to wear a woman's pair of shoes for an hour around the hotel room to stretch them! He is lucky I am tall and that I do not wear stilettos!! I am not sure that he would be willing to do such things then!
So what do I have on the go for tomorrow?
I get to see this little girl tomorrow:
Love that kid!!
M is helping E pull up laminate flooring that they are replacing and we are taking the "old" floor, but it isn't old! They just want a different color! So we are going to put it in our master bedroom!! More to come on that later!!
Hopefully I will get my projects on the go depending on my sewing machine! If it doesn't work I might borrow M's mom's machine! I will post more on these projects soon too, once they are done! Can't wait!!
I hope you all have a good weekend!!!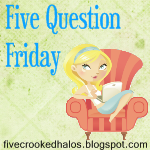 Head on over HERE to play along!!

1. Have you ever had surgery?
Yes, I had a tumor on the ball of my foot removed! Turned out to be benign!! Thank God!! Took forever to heal!
2. Ever ride in an ambulance?
Yes, from work actually! I was having severe chest pain and with my history it is not something to fool around with. (I have a history of unexplained hypertension as a child), turned out to be a pulled muscle in my chest.
3. How are you in a medical emergency? Panicked? Calm?
I am calm! I work in health care and I have experienced my fair share of emergencies, including an elderly patient taking a face plant. I will just say that she needed reconstructive plastic surgery afterwards and that was probably the worst thing I have dealt with!
4. Do you have a garden? Flowers or veggies?
I have a garden of flowers! I love picking what goes in the garden, but unfortunately I cannot maintain them myself due to allergies! (I am allergic to everything outside)
5.
When did you move out of your parents house?
When I was 20. M and I bought our first house!!! (You can find pictures of it under my banner)