Yikes! It is the Friday before Halloween!!! I have a Halloween party to go to tomorrow and haven't confirmed my costume yet!! My ideas:
- Geek and Sheek - M will be the geek and I will dress up and do my hair..
- M could go as a ball player and I could go as Cat woman - but I need black leggings...
-M wanted to be a firefighter - Not original and too EASY, as is the ball player, I considered going as Snooky, but let's face it, she is too short and I'm not skanky enough and couldn't pull of heels!
I also need to bring an appetizer... I wanted to go with a Halloween theme and I am stuck!! I think I make mini spooky cupcakes. I wanted to make mini mummies with hot dogs wrapped in crescent rolls... but there was no way I could stand the smell long enough to cook the hot dogs!! Me and hot dogs = GROSS!! I got food poisoning once... and it has been downhill from there!
Halloween is special for M and I. Our first official date was on Halloween! Of course we didn't call it a date, we were just "hanging out" but it was history from there!!! We had soo much fun! Waaay back in high school, M came over for the first time and we sat on my Mom's front porch and scared little kids. Then we took a drive to one of the "haunted" roads in the area... nothing happened - it wasn't all that haunted!! We took the old Snoopy (my old shih tzu) for a walk after all the kiddies were done trick or treating and realized my sister and her boyfriend were spying on us... M got his first speeding ticket on the way home. We joke that he was rushing home to tell his Mom all about me! He called me when he got home to tell me how much fun he had and to inform me of his ticket! That was just the start of many phone conversations! But if anyone asked - we were still not dating... haha Of course we had hung out before that, but that was in group settings, this was our first official time alone together!
This week we accomplished a bit of fall cleaning in the house! We cleaned out our cupboards/pantry and re-organized! I am embarrassed to admit that a lot of food was thrown out, but we also donated some!! It did feel good to get it all cleaned out though, as I am sure it hadn't been done since we moved in!!! I worked on editing photos yesterday with photo shop and I am still not done!! I am just learning photo shop on my own, so it is taking me a bit longer to learn the ropes!! Thank God for YouTube tutorials!!

Oh and I wanted to give a shout out to all of my new followers, (as well as the old ones)!! 200 followers!!! We just might need to do a give away to celebrate!!!
Since it is the Friday before Halloween, I thought I would share an embarrassing photo of M and I in costume:
Yup.. that is a thong one piece swimsuit... hahaha
Here we are at M's parents showing them our costume!!
I also blasted MJ on my stereo!!
Have a great weekend!!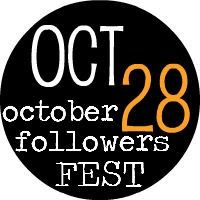 Link up
HERE