It has been raining like crazy and our forecast doesn't look soo hot for the weekend OR next week! This is my favorite time of the year - it can't rain for a week and a half straight!!
Now for a bit of: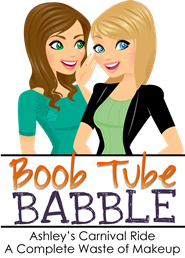 Head on over
here
to link up or find out more!
Heartland: was not on - probably because it was Thanksgiving here in Canada and it takes place out west!
DWTS: M and I just watched the dancing part, we haven't caught up on who got kicked off, but I may have heard Chyna - which granted she screwed up, but she was still better than Chaz. I am considering not watching it anymore since it is not about the dancing and Kristin is gone...
Hart of Dixie: Still loving the show! Not loving the blond though... her lipstick drives me batty!
Up All Night: This show cracks me up... you don't have to have kids to enjoy it!
90210: didn't watch yet
Days Of Our Lives: Getting sick of this John story already... just bring back Belle and Shawn already!
Parenthood: The baby came this week! After reading on TV Guide about how they went about staging the birth - I was disgusted, it may have involved grape jelly and cottage cheese - vomit now!
Sing Off: Still watching - the old men crack me up!
Glee: Just got caught up on last weeks and I am still not loving this season! It's pretty much a sympathy watch, but M still likes it!
Revenge: Loving it! I'd like to know how she has set all of this up! I also find it creepy that she can access people's computers like that - you can't do that in real life right?
Grey's: Haha rewind to last week - M actually watched it with me and LOVED it, but it was pretty much all about the men... The funny thing was I asked him if he wanted to watch it this week with me and he said NO! But this week was good!! Did not love the surgical subject though - TMI!
Private Practice: Not loving Violets new hair cut... I find them dealing with some very real issues this year soo far... interested to see how Charlotte handles the whole Cooper's son situation! I also like how Sam is reaching out to Addison as she begins dealing with IVF!
X-Factor: LOVING it!! Haven't watched this weeks, but the talent is crazy!!!
I hope everyone has a fantastic weekend!!