I wasn't going to start my post off with
So What Wednesday
... but with a day like mine so far... I had to!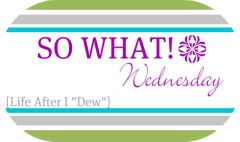 - So what if I was walking around clinic this morning with my toes scrunched up, which I was blaming on new socks...
- So what if it was not the socks after all?
- So what if I found a mouse in my shoe - luckily the cat toy breed... furry and yellow... Thanks Binx or Lux.. turns out my socks are comfy after all!
- So what if I had the longest drive back to the office this morning thanks to not 1 detour but THREE! In which case I asked the road guy at detour 1 how to get back to Cambridge and he rapped off a bunch of turns, which stunned me with silence - he asked me if I was okay - I snapped out of it and said "um yah". He then proceeded to tell about 7 other cars to follow me because I knew where I was going! HAHA! Little did he know I was the blind leading the blind! I could get lost in a corner! But I found my way thanks for my old school GPS... to find another detour as well as another one after that!
- So what if we are supposed to get a ton of rain and wind today
- So what if it is only Wednesday and I wish it was Friday...
- So what if my dogs hate this working 5 days a week and I now need to make a new dog bed - more to read on that below... Go ahead guess which one did it...
Now on to:
I am loving the workout plan I have officially started last night:
There are three other stages! It made me feel like a child again doing jumping jacks. I may or may not have had to think twice on how to even do jumping jack - it's been a while!
I love my dogs.... even when I came home from work last night to find that they had "defoamed" the dog bed that I slaved over making, which also meant that they chewed the fabric... I know they are just telling me that they don't like it when I work every day... but a momma's gotta do what a momma's gotta do...
I loved that I completed the challenge!! I DID IT!!!! I went 21 days without pop!!! The hardest was when I was out for dinner and not having a gingerale! I maybe only had one gingerale a day on average, but some days I went without! I kind of miss having it when I go out for dinner or to friends houses, but I think I can significantly cut back now!! I am soo proud of myself, especially since not even a week after I took the challenge I wanted a gingerale! I have also managed to cut back significantly on chips and sweets! The veggie/fruit a day is a work in progress! We haven't had pasta for a couple of weeks too!
Love
these
tea towels - I think I should make some
Does anyone know how to make these ruffles?!
This
looks easy, yummy and healthy!!
I need to make a buffet in my useless closet in my dining room..
This
sparked that genius idea!
Have a great day!! You can find me on Pinterest by clicking my button on my sidebar!