How Far Along:
16 weeks
Size Of Baby?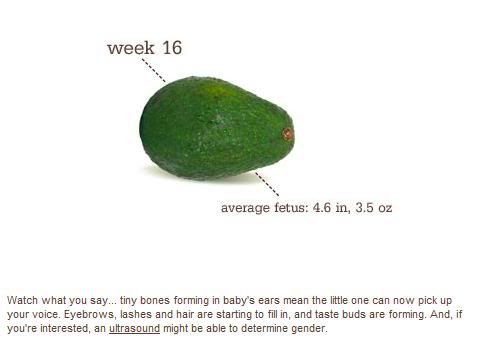 Maternity Clothes?
Still mixing it up. But as the bump grows the jeans are fitting better and better!
Stretch Marks?
None yet.
Gender?
We will find out in March!
Sleep?
Is actually a lot better now. Getting up once or twice to the bathroom, but falling right back asleep. my nose is starting to get better
Cravings/Aversions?
Eggs are still a big no. I really wanted white cupcakes this week. I've been good though! I've also started to crave milk! Definitely giving in on this one!! Waffles!!! And guess what! M's Mom sent me home with her waffle maker and mix!!
Movement?
There have been a few more times this week where I've felt something and thought was that the baby? Baby seems to like loud music, that's when I seem to feel her/him most.

Feeling?
Great, my nose is getting better, but still running. I'm beginning to think its a pregnancy symptom more so than allergies. Headaches aren't as bad. Hoping my skin is back on the mend... Man it has been problematic!!
Highlights:
Getting the rest of our pictures back!





We picked our nursery colors for the most part! We have picked our aqua, now just have to agree on the grey!
We also bought the babies crib!! Soo exciting!! Suddenly this all feels even more real!!
Belly Button?
In - if it comes out I will be shocked!
Best Moment of the Week?
Buying the crib! This alone was a huge milestone, one I wasn't sure we would ever get to do!
Crazy Pregnancy Moment:
Getting blood work taken to check my thyroid and the guy scratched my arm with the needle tip when he pulled the needle out, after he jabbed me... I get this isn't all that crazy pregnancy related, but more of a rant...
Looking Forward To:
Feeling the baby move/kick, so I can find out if it is what I feel now!
Ultrasound next week!!!