So I officially have 2 rooms left to finish in my house now, that is not including the hobby shop, but that is way down on the bottom of the to-do list.
Mike and I were going to wait to do the laundry room until we bought a new washer and dryer, which ended up happening a little sooner then planned. With the laundry room, we plan to redo the WHOLE room... now when I say WHOLE room, you are probably thinking that it is a massive room, but it is not! It is actually quite small. I know that we are not going to be redoing the WHOLE laundry time at this point, but I would kind-of like to paint it at least! I had this whole plan to get white wainscoting for the bottom of the walls, and then paint the top half a taupe color and then use my circle stencil (from my bedroom at the old house) with hot pink paint, orange, yellow, teal, etc. to brighten it up! Whatever I do I want the room to be bright, colorful and most importantly FUN! Because laundry has to be FUN somehow! However, we did not end up getting the washer and dryer I had planned, as a better deal and pair came up! The ones I was going to get were: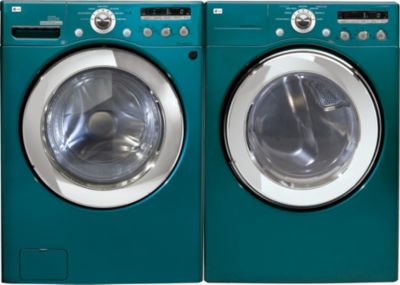 As great as these were, we found better! I actually just LOVED the color of them really! And had planned the room completely around them! My mom thought I was crazy for picking such a bold color of the machines, and now I see her point, I probably would have grown sick of them eventually!
So we ended up with white! You can't go wrong with white (or red in my honest opinion)! So I can go back to my brainstorming, which definitely included Hot Pink walls! And Hubby agreed! haha! I just have to decide for sure!
Although I think I have some time on my hands, because Mike wants to wait on the laundry and move forward with the bedroom! Which means I just might get a bedroom door!! Pretty sad that is the first thing that excites me! I know it is just Mike and I and our crazy animals that sleep in our bedroom, but I would love for the cats not to be in our bedroom all day... shedding all over my nice comforters (which I can wash now in my BIG machine) and when they are in the bedroom, I can put a throw blanket on top, although they are pretty good at sleeping in their bed at night... it is just in the day they like to sun bathe! I also like the privacy feature a door has to offer! It is hard to get dressed when people are over, or even to get changed! And if I don't make my bed, which I prefer not to, but insist on doing a makeshift job to stop the cats from getting IN my bed, then no one would technically ever know! If I know someone is coming over, then we would of course make the bed, but for the stop-in visitors, I could not guarantee that my bed would be made properly! And with a door, I would not have to make my bed, as I prefer it not made! It is like my little BIG nest, I leave my pillows the way I like them, blankets the way I like them, and can just hop back in and end up where I left off! So that would be the con to having a bedroom door!
Our bedroom is very big, and I dread the thought of painting it, and especially edging it, since hubby is not very handy, nor does he have a perfectionist itch in his body, which I make up for X 2, it means I have to edge, if I want it to look half decent. We even have crown molding in our bedroom, so that technically means double the work! I keep going back and forth between doing an accent wall or not... the thing holding me back would be the fact that I cannot use ALL my comforters, since they are all different colors and would not go with one color! Mike said I could just accent the room with curtains and throw pillows, but I know him well enough that he would eventually complain about this, as he already complains that I insist to change things up! I can't wait to accent the room with HOT PINK.. to match the comforter set he AGREED (with much persuasion, thanks to some lady in the store, who TOLD him it was HOT PINK, ho wouldn't have noticed otherwise!) The whole set is not hot pink, it is reversible with black and white on one side and hot pink and white on the other! And this set does not have polka dots! haha, my other FAV! The set does happen to have HOT PINK sheets, which I may have told hubby he would look SUPER HOT in to get my way, after all he did wear pink at our wedding and he looked pretty hot in that!
Why does decorating have to be soo damn difficult to buckle down on a decision!! However, hopefully I will have one of the above rooms done soon!