This week I will be linking up with a bunch of my favorite bloggers who have all gone together and started a Spring Link Up!!! Soo fun!!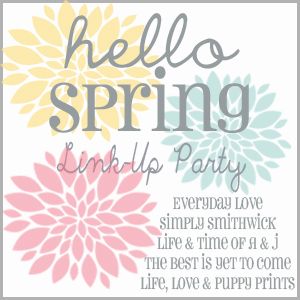 But before we get to that...they discuss our weekend shall we? Our weekend was pretty good, we did get the new door hung in the mudroom, I didn't bother with a pic because let's be honest, it is just a door, but I do love it!!
Saturday I went and got a manicure!! It was great, while I was doing that M went and did some running around, came back to pick me up and surprised me with these:
A beautiful spring bouquet!!
We changed the bed linens, as well as the duvet cover.
The color of the duvet actually matches my walls bang on!!
We have 1 week left in this cleanse and cannot wait to be finished!! I'm sure you are all sick of listening to me complain about it!!
Our weekend was great though, we got a lot accomplished, including a budget to see how much we spend monthly. It was great to see it all laid out! Our financial advisor will be impressed, knowing that we have never budgeted, yet still ended up on the plus side of the equation!! Crazy to see how much we spend yearly on things like pets, bills, and groceries.
Now on to the spring link up!! Today's Topic:
SPRING BUCKET LIST
We plan to plant our own veggies, herbs and some fruit in planters on our patio!! I hope to be able to paint my planters with chalkboard paint and label what is growing in each section! Similar to this:
But mine will be round big planters! We have some left over from our wedding!
We plan to install the new kitchen counters, new back splash, new hardware if we can ever agree to it, new faucets, and maybe a new sink.
We plan to refinish the bathroom vanity we purchased and install it into M's bathroom.
We plan to finish the cleanse so I can back to baking all sorts of goodies from pinterest, as well as being able to eat with family and friends for Easter
I plan to make a new spring wreath!!
We plan to finish sorting out bins in the basement.
We plan to finish organizing the spare bedroom! We are just about finished!!
I need to reorganize my office/sewing room. It looks like a scentsy bomb has hit it!
I plan to make some new pillows for the couch!!
M plans to start playing ball!! I am going to miss playing myself this year, but my health comes first!
We plan to be able to sit back and relax at some point as well!!
The dogs plan to play in the mud I am sure, as well as any puddles they can find! Shouldn't be hard over at the farm!
I think it is going to be a great spring! Now if it would just hurry up and get here already!!