This is the last day of the link up!!! Insert sad face now... But it's Friday, so we can smile afterall.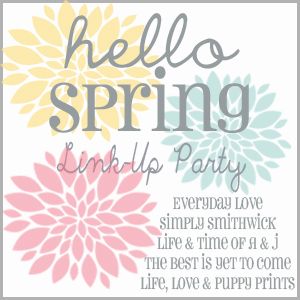 Today's topic...
Spring Recipe's
So as you all know we have been on this yeast cleanse for 26 days.. we finish Monday! So Spring recipe's will be a big thing in our house!! We cannot wait to eat normal food again!! Here are few things we plan to try:
Cinnamon Roll Muffins
You can find the recipe
HERE
Twice Baked Potato Casserole
You can find that recipe
HERE
Crispy Cheddar Chicken
Chocolate Caramel Toffee Crunch Cake
I'm thinking of making this for Easter!! YUM!!
I will finish with this one:
Cookie Dough Brownie Bites
I have soo many more, but we would be here all day and let's be honest I can't even eat any of the food I have posted about today until next week!!
I hope everyone has a great weekend!!