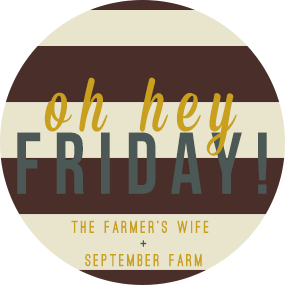 Another week has just zoomed on by and this weekend is gunna be a little crazy!
Construction is supposed to be starting on the house next week, so we need to get the garage cleaned up so we can put our furniture in there! We have until Tuesday night to get everything packed up and out of the back of the house and hopefully get settled in at the farm for Wednesday! Needless to say it's going to be a little hectic, so don't be surprised if you don't hear too much from me come the beginning of the week!
I am still debating on keeping the great room kitchen our blue, or painting it all grey and doing the bathroom blue... Lol
Our blue is similar to these:
I love our colors, but am considering swapping them!
And if I paint the bathroom blue, I can do my bathroom cupboards in a grey:
I like the 3rd one!!
Yesterday we went to St. Jacobs market! I am now officially ready for fall to be here after visiting that gorgeous little town! Noah was such a great sport, he didn't cry once - not even in the car!
We did well getting fruit, fresh bread, my favorite mousse cakes, brownies, a new scarf, and nuts! I also found a dress for Noah's baptism at the outlet mall there! I got such a deal - it was regularly priced $230 and I got it for $25!!!
We also hit up Legoland! Daddy was super jealous, but Noah loved it!!
Girls night was Wednesday night, soo much fun! We hit up Kelseys and I will just say I love their spinach dip!
Unfortunately my back has been killing me for the last couple of days, with it being worse in the evenings.
Noah got up super early this morning! I think it must be a Friday thing! But he's already one nap in!!
I am happy to report his cold is pretty much gone now!!
Hope everyone has a great safe weekend!