Brrrr, it is getting chillier here in Ontario that is for sure!! I was really hoping for an Indian Summer! Sorry for the lack of blogging yesterday, time escaped me! But fear not, I am back today with some letters: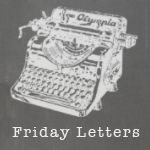 Dear Body:
I know I did yoga for the first time yesterday, I really thought you love it! It was sooo relaxing, not overly difficult, especially when you compare it to Tuesday nights Zumba, but why on earth do you hurt more after yoga and not after zumba?! I get it... I stretched some parts that obviously feel neglected, but I am sorry! Can you feel better soon!? Granted it is a good feeling to know that something is working, but I get it now!
Dear Hair:
We are getting bored with each other! We need to start doing new things! Co-operate and this plan might last longer than 1 day!
Dear Alison:
Happy Birthday on Sunday!! I hope you have a fantastic weekend celebrating!!!
Dear Torrent:
(Yes I am writing to my car). I really have not enjoyed you failing me this week! I'm hoping you will be back into business tonight because as much as I love driving the truck, I kinda miss you! Turned out to be nothing serious, just a battery and M will have you feeling back to normal hopefully today!!
Dear iPhone:
I really appreciate you, just sayin'.
Dear M: I get that your work season is beginning to get really busy, but I need to be eating earlier on Tuesdays and Thursdays. I hate going to Zumba and Yoga and feeling full! So we will need to work something out okay?
Dear BarkBox: Lily and Gracie loved getting their mail yesterday!!! They also loved showing their Dad their new toy and bones!! So happy to have been able to purchase the monthly subscription, knowing that part of it goes to pet shelters and rescues!!
Lily really liked the Pretzel!!
Dear Lux: Please stop sleeping by my feet, I end up sleeping like a retard trying to accommodate you because I don't know any better in my sleep, but when I wake up and see that you are slowly and surely pushing me over have an entire quarter of our kind size bed... its not cool! You are a cat! And you don't need to grunt and groan when I end up soo uncomfortable that I actually wake up and realize it is all because of you and move you! Sneaky little fur friend!!
Happy Friday friends!! Enjoy your weekend!!