Wow, we finally made it to Friday!!

Thursday got away from me, I managed to accomplish quite a bit! The weather was beautiful. I got my car cleaned out, a much needed manicure, the dogs hair cut, Lily to her vet appointment, she only lost 1 pound!! I also made some Terribly Terrific Toffee snacks of my own that I had mentioned on Monday and Wednesday! You can find the recipe on my Pinterest in the Pins I Have Done Folder!! YUM and soo easy!! I also managed to sit outside for a bit!! Busy, yet productive day!!
So I am going to link up with
Ashley
for: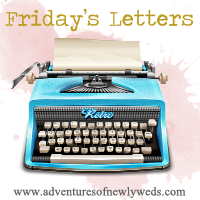 Dear Followers:
I just want to take a minute to thank you for all your support lately. It really is encouraging to read your positive notes when it feels like the world is coming crashing down. I also want to give a BIG shout out to all my new followers!!! I hope enjoy following along this crazy life of mine!
Dear Lily:
I am happy that yesterday's vet appointment went well and I am beginning to feel more comfortable with your treatment plan! Please continue to stay strong and know that I will fight this along your side with you. Just as you didn't give up when it would have been soo easy, I won't either! Just heard back from your vet and you are officially out of the woods!! Your blood work is not yet perfect, but it is not dangerously low!!! I am soo proud of you!!!
Dear Gracie:
I know that your nose is out of joint, but I also know that I am giving you extra attention as well and it seems as though you are ignoring that factor. Grandma really didn't enjoy the fact that you stole a loaf of bread out of her grocery bag. Acting out is not going to get you the good attention you want. I know you for some reason you did not like that thunderstorm last night and I enjoyed the extra cuddles, but I also hope this doesn't become a future plan for thunderstorms!
Dear Jazz:
You are really starting to make me mad... your attitude is just foul lately, hence your trip out to the garage yesterday! I asked Dad if you could stay out there and he said no, although I know you secretly liked it! I think we just needed some time apart.
Dear Hubby:
I am actually pretty excited that you have your first ball game tonight!! Go Team Smoke!!! I also hope that you don't get a fire call tonight because more than half of the team are firefighters! I am also hoping you make some progress on your bathroom this weekend, although I know we will be busy!
Dear Brandon:
I am looking forward to seeing you on Sunday and witnessing your baptism! Although I am pretty sure God has had plans for you since you were conceived, I am happy to see you become part of the Catholic Society.
Happy Friday Friends!!! Have a safe and happy weekend!!