I had a few technical problems with Blogger all weekend! I have been unable to both read and write, but now friends, I am back!!! I hope everyone had an awesome weekend, because mine was pretty great!
First off, today is GRACIE'S 3rd BIRTHDAY!!! Happy Birthday Gracie Mae! Love you like crazy!!!
Here is to many more!!!
So I will get on with my link up of what I have been up to!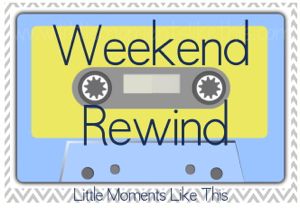 Friday: M had his ball game. His team won again!!! Yay!!! 2 in a row!! We will see how they do this Friday! After the game we went back to N & K's for some beverages. I also finally tried the Coors Light Iced T. Not bad, not fantastic, but for beer, not bad! I think I would have liked it with some lemon!
Saturday: M worked, I did some stuff around the house and then ventured over to K's deck for some sunning. Little G enjoyed some playtime with Grace and Lily, who came home pooched afterwards!! M and I watched This Means War. I thought it was pretty good. M got bored of it a bit when the guy hired his family, but overall, not a bad movie! I do love Reese Witherspoon!
Sunday: M and I went for brunch with M's parents, as my sister and mom ended up bailing because my mom has a cold. Brunch wasn't bad, but for the price, it wasn't worth it. I can say I wouldn't go back. After brunch, we got groceries, worked in the garden together - yes you read that right... Mrs. Allergy Queen was pulling weeds and tilling the garden! Fear not, I paid for that later. But most of my gardens are weeded, just 2 sections left!! M and I played in the yard with Grace and Lily for a while and then headed in and worked on the shower stall. We enjoyed a nice chicken dinner and then headed to the ball park to practice hitting some balls! Here is to hoping it helped!
Yesterday: I went shopping in London with S and baby W - who was the best little shopper ever!! I also think he has moves like Jagger!! I also managed to pick up the ingredients needed to make:
I plan to make those today!! I hosted Girl's Night last night, although it was just K and I, and we watched the season premiere of The Bachelorette. Can I just say how corny some of the guys were? But I like Doug, Arie, Charlie, and Nate stood out as real contenders for now!