Linking up with
Shannon
for another edition of: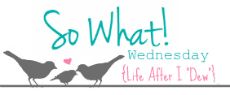 So what if it has been forever since I have linked up. It takes a while for these things to build.

So what if I am still finding white stuffing from Gracie and Lily's weasel? I have decided to not restuff it this time!

So what if my facebook page is having issues! It says blogger.ca is spam and will not allow me to post my daily url!

So what if I just received the same fax 3 times! Not everyone can get it right on the first time!

So what if I caught my hubby off guard last night:
Me: "I'm watching a new show called "The Client List" with Jennifer Love Hewitt."
M: "That sounds like it is about an escort service."
Me: "It is."
M: "And you are watching it? I would have never expected that one and begins laughing"
Me: "Alison had mentioned it, not that it was an escort show, but that it was good. There is more to it. It's about a girl trying to keep her family together after her husband left her."
M: "I wonder why he left her?"
So what if I thought yesterday was Thursday? We had our Thursday Dinner and I wondered why Brian's House didn't PVR! Hubby was sure to tell me "that is because it is Tuesday."

So what if I don't quite get the concept of the new TV show "Duets". I'm not sure what the goal os, but I love Jennifer Nettles!
I love the conversations that M and I have. Some are completely random, like the one we had Monday night lying in bed.
"I need you to find the sprinkler so I can water the grass, it is dying"
"It is in the cedar box on the deck."
"Which one? I don't want the one that goes "ch ch ch" I want the circle one."
"Oh it's the yellow one in the box."
"How many sprinklers do we have?"
"3 - the yellow one, the circle one we play in with the dogs and the "ch ch ch" one."
Needless to say we found the sprinklers, not in the box, but in the garage and I think we have more than 3! I still don't like the "ch ch ch" one. It's the noise that bugs me!
I love that M is officially in the new shower and IT DOES NOT LEAK!! Good job baby!! I am very happy to have my bathroom back to myself!!
I love how Gracie's head wrinkles up when she is exhausted!