Well this is a long over due post of a few so-what situations that have been going on as of late: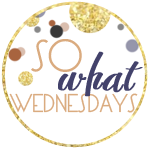 - so what if the day has finally come - I'm sick of online shopping!! I swear it has been non-stop ordering around here, mostly for the nursery, and a few gifts.
- so what if all I want to eat is chocolate pudding... It could be worse right? It could be cookies or candy.
- so what if I actually fear getting gestational diabetes because of my constant sweet tooth. I'm trying really hard to only have chocolate pudding as my "bad" snack! But sorbet, marshmallows and Rice Krispies are soo good. And cheesies... Can't forget those!
- so what if I am taking Mikes truck today because I'm heading to my doctors appointment in London and they got dumped on with snow. Insert slightly paranoid mama with a baby in utero. Better safe than sorry.
- so what if there is less than 30 days to Christmas and I have barely bought any gifts! I am soo behind on Christmas this year! My house is decorated inside and that's about it!
- so what if I still have yet to take a Christmas card photo! Slacker right here! I was going to just use one of our announcements pics, but they look too summery!
- so what if I filled my tire with air today all by myself, not really knowing how much to put in or how to tell how much went in. Thank goodness for the digital gages when I got back in the car. Turns out I didn't do too bad!
- so what if I bought drawer pulls online, agreed to pay one price, just to learn afterwards that Canadian shoppers were supposed to inquire about the shipping prices before placing the order.... Would have been good to know that first. Turns out I might have to pay a bit extra. But still works out to be cheaper than in store at $5 a handle! Ouch! I will pay $2 online thanks!
- so what if I think I finally won the bathroom battle. Small victories. After pricing out what M wants to do, my way turns out cheaper, oh and heck of a lot easier!! Winning!!
What are you saying so what to this week??