Today I have decided to play along with a new game! Java over at
Never Growing Old
hosts a game called: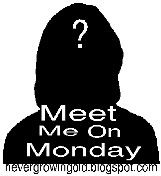 Questions:

1. Do you eat Sushi?
2. What kind of bath soap do you use?
3. How often do you talk to your Mom?
4. What TV shows do you watch on a regular basis?
5. Did you start Christmas shopping yet?

My Answers:
1. No I do not eat sushi. I actually do not eat fish (except for tuna).
2. Right now I am using Soft Soap: Pomegranate. I like to switch it up though!
3. I talk to my Mom usually once a day, but sometimes less and sometimes more! lol
4. I watch tooo much TV! I watch: One Tree Hill, DWTS, Life Unexpected, General Hospital, Days of Our Lives, 90210, Grey's Anatomy, Private Practice, Glee and Heartland.
5. I have bought 1 Christmas gift soo far (In October).
Go on over and play along ;)