Yup, totally combining two great things today on one blog post!!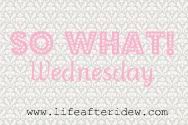 So What:
if I left my good edging paint brush outside and it got rained on! It wasn't supposed to rain!

if because I left that brush outside, I was not able to completely finish the second coat edges... I did what I could with what I did have!

I called up Bell last night and ripped into them for taking away my CW11 channel right before One Tree Hill started... and they did nothing about it!

I called Bell back and change my whole programming, got the channels I wanted and ended up paying less!! You really just have to talk to the right people!

if because I was on the phone pretty much all night, I was unable to watch any of the shows that I wanted to! But I did get the CW11 back!

if I managed to PVR all of my shows last night, except for Glee! I will have to watch that one online!

if I need a hair cut, but just have not found the time to do it!

if I am sick of my house looking like a bomb went off it! Thank you renovation!

if my dining room has turned into my closet right now! Easy access I suppose!
Okay I am done.... now let's move on to the things I am loving!!!
I am loving the weather today!!! It is getting warmer and warmer!
I am loving the guest post I have planned for tomorrow!! Make sure you check back!!
I am loving the signs of spring, soo many trees have started to blossom already!! Truly amazing!! (Although I am allergic)
I am loving the progress we are making in our new mudroom/walk-in-closet. M is doing such a good job!
I love the new paint colors!! I cannot wait to reveal the room when it is done!! I am picking up the flooring on my way home from work tonight!
What are you loving today?!